Intermittent fasting
made easy
Lose weight & enjoy food
meals delivered for a week
to any address in Switzerland
Discover
How to fast and lose weight
Avoid overeating and binge snacking during mealtimes
Fast 16-18h
Ketosis takes off, when your body sources energy from stored fat
Eat Low Carb 6-8h
Ideally portioned, healthy menu, low in glucose to support ketosis

Enjoy healthy food
eating pleasure helps nutrients absorption and reduces hunger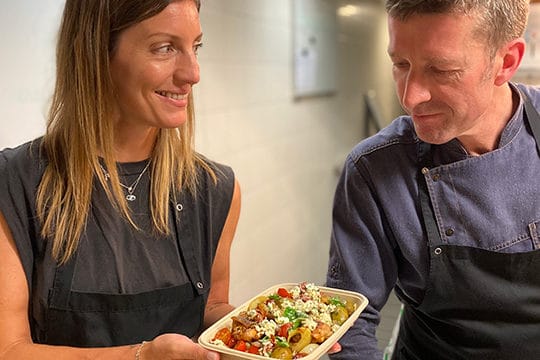 Choose intermittent fasting menu from our chef and nutritionist
16:8 – 16h fasting, 8h eating daily
5:2 – 5 day balanced menu, 2 day fasting menu
A la carte – build your own menu
Moderate & Intensive sport activity
Aurelia Corbaz – practicing micro nutritionist, teaches her patients enjoying healthy food
Benoit Thorey – chef du cuisine and founder of Allcook, former catering chef at La Réserve Genève
Lose weight and enjoy food
Choose your menu
varied and balanced
Our chefs cook
from seasonal ingredients
We deliver Swisswide
with SwissPost in a chilled box
It is ready in minutes
Enjoy & order again any time
Meal plans to fit your lifestyle
Moderate activity
Low carb menu
to lose weight
Intensive activity
Chef's choice menu
reduce fat and build muscles
Mix & Match
Build your own menu
proteins, sides, breakfasts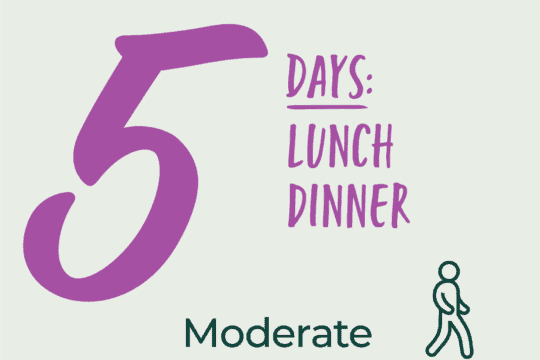 16:8 intermittent fasting low carbs meal box
800 – 900 kcal/day; Lunch, Dinner, Light Snack
16h or less (fasting, including sleep-time)*
8h or more (eating)
* Try achieving 18h fasting to trigger "ketosis" when your body burns fat reserves in absence of sugar
5:2 intermittent fasting low carbs meal box
5 HEALTHY EATING DAYS
1600 -1800 kcal/day Breakfasts, Lunch, Dinner, Light Snack
Low Crab menu: proteins, veggies, occasionally pulses and wholegrain rice, fermented products
Physical activity 2-3 hours weekly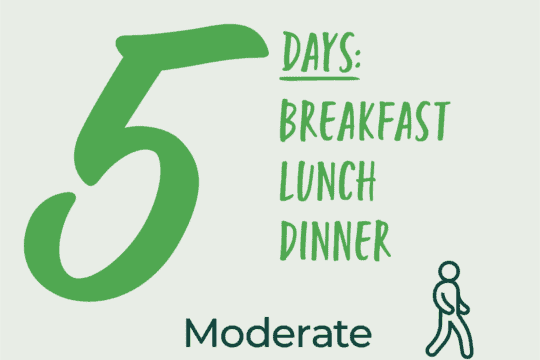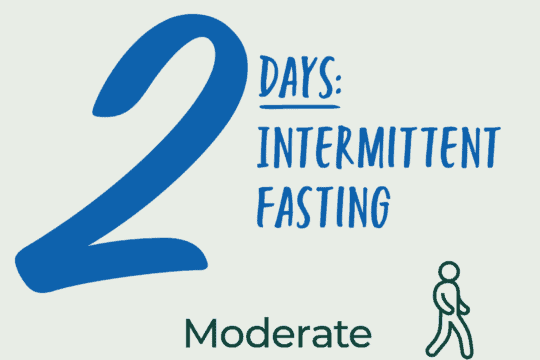 2 FASTING DAYS
500 kcal/day wholegrain & fruit snacks, vegetables, lean proteins
Filling and nutrient-dance menu - easier to fast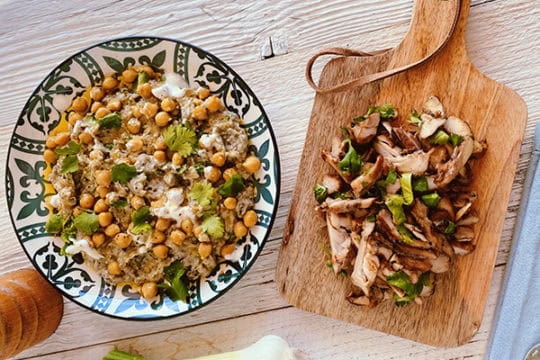 Meals à la carte
BUILD YOUR OWN FASTING MENU
Exclude allergens
Vegetarian fasting
Mix and match proteins, sides and breakfasts
Add meals for your family
Meals cooked to perfection
Nutrients are preserved with gentle cooking and vacuum packing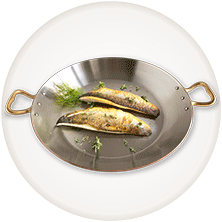 Ingredients cooked to right level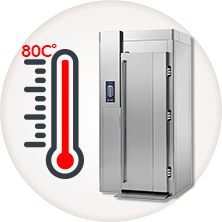 Cooking level control with rapid cooling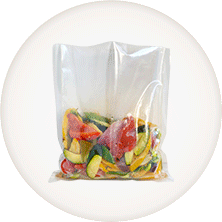 Packed in compostable vacuum sachets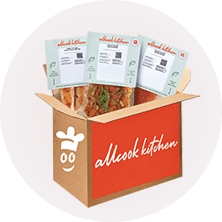 Delivered to any address in a cooler box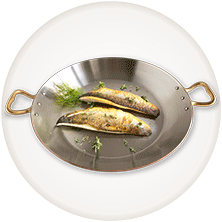 Ingredients cooked to right level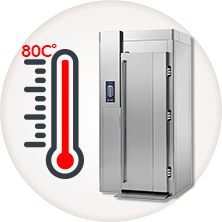 Cooking level control with rapid cooling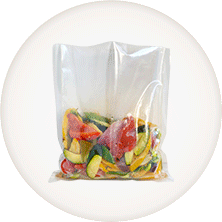 Packed in compostable vacuum sachets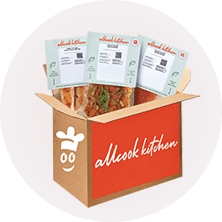 Delivered to any address in a cooler box
Our partners to help your body eliminate toxins
Ragi - fermented foods and drinks
Fermented foods and drinks contain lactic acid bacteria, which helps to "pre-digest" foods and lower the glycemic index of foods. Fermented kimchi has been scientifically proven to reduce insulin resistance, blood pressure and help to lose weight.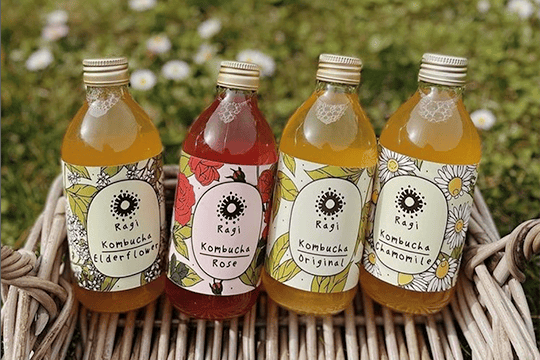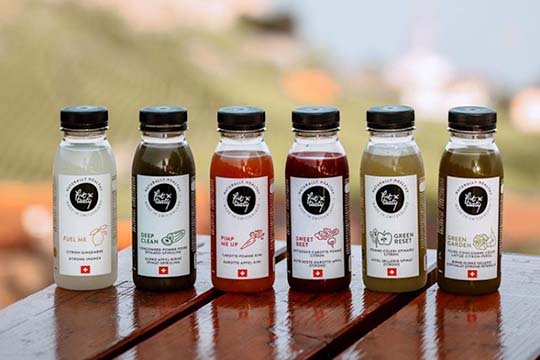 Cold-pressed juices
Fit'n'Tasty juices are based on 100% natural plants, local products and a seasonal selection. Cold-press process respects the natural nutritional quality of ingredients.
You can purchase our menus once. You can try it to see if it works for you and decide later if you would like to purchase occasionally or become a subscriber.
The best-before date is mentioned on the pack. Meals are fresh in the fridge for 5 to 7 days after the delivery. We recommend enjoying your meals within the first few days of delivery. If you cannot finish your meals by the best-by date, you can store them in the freezer. Important to unfreeze them slowly in your fridge to keep the quality. Fast unfreezing in a microwave or ambient temperature will ruin the work of a chef.
Intermittent fasting is an eating plan that switches between fasting and eating on a regular schedule. A growing body of scientific evidence shows that intermittent fasting is a way to manage your weight and prevent — or even reverse — some forms of disease.
If a person don't eat for 16h or longer, the body will go to its fat stores for energy, and fatty acids called ketones (ketosis) will be released into the bloodstream. This process helps to loose weight and has been shown to protect memory and learning functionality.
A low-carb diet limits carbohydrate intake to less than 30%. We minimise the consumption of "rapid" carbohydrates with a high glycemic index that cause blood sugar peaks and provokes hunger. This diet supports ketosis process as intake of glucose is reduced.
New England Journal of Medicine revealed data about a range of health benefits associated with fasting. These include a longer life, a leaner body and a sharper mind. Many human and animal studies showed the following benefits:
better physical perfomance for young people
losing weight and preventing obesity
improved blood pressure and resting heart rates
Before you try intermittent fasting, consult with your doctor first. Some people should steer clear of trying intermittent fasting:
Children and teens under age 18.
Women who are trying to conceive, pregnant, breastfeeding.
People with type 1 diabetes who take insulin. While an increasing number of clinical trials have shown that intermittent fasting is safe in people with type 2 diabetes, there have been no studies in people with type I diabetes.
Those with a history of eating disorders.
Fasting itself is beneficial for your health even without weight loss. The most frequent mistake is overeating and binge snacking during mealtimes after fasting. That may lead to weight gain and demotivate you. To avoid doing so:
control portions 350-450 kcal per meal for women; 450-550 kcal for men;
clean up your storage from salty and sweet snacks;
eat slowly and mindfully;
look for food pleasure from contrasting textures, flavours and spices;
limit without complete avoiding your favourite "naughty" foods and drinks.
Wine and beer are good for you in moderation (1-2 glasses per week).